Seminars Living and Working in Australia & New Zealand

To Seminar Reservation (Click Here)
Are you considering migrating to Australia or New Zealand permanently? Or perhaps you are interested in working there temporarily? If yes, then our seminars can provide you with comprehensive information about:
the specifics of living and working in Australia and New Zealand
various visa categories: skilled workers, family and other visa options
the Dos and Don'ts – avoiding costly mistakes
More information can be found in our seminar program:
Dowload Seminar Program (Click Here)
Moving to Australia or New Zealand can become a reality at our flagship events in Europe, Singapore and USA.
Our seminars offer a unique opportunity to obtain accurate and detailed information about Australia, New Zealand, leading employers and jobs.
The informative seminars will also detail visa processes, application procedures as well as a breakdown on the various visa streams.
In addition to the above, we will discuss, amongst other things, the following topics:
Demand for high calibre, experienced overseas skilled professionals and tradespeople
Opportunities for business owners and investors across many industries
Business and skilled migration opportunities in each State
The differences between State Sponsorship and State Nomination
Self-Sponsorships
Skills currently in demand and employment opportunities in each State
How the state migration programs can support successful and innovative business owners to settle and flourish in Australia or New Zealand
View Seminar Feedback (Click Here)
Our seminars offer a unique opportunity to obtain accurate and detailed information about Australia and New Zealand. We will provide you with professional and reliable guidance. We believe that a realistic and thorough assessment of the different relocation aspects is the basis for successful migration.
We welcome you to come and spend an afternoon with us. Seminars during the week start at 18.00 pm and on weekends at 13.00 pm. Seminar will run for about 4 hours.
The ticket price includes: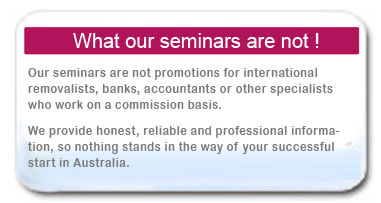 Free Visa Check of your visa opportunities
Information pack about the seminar's content
Current salary scales
Requests, suggestions and questions from seminar participants are welcome and will be added to the program.