Book your Consultation at a time which works for you*
Tell us what you need.
Uploading your CV or resume empowers you to make sure, we have all the information to lodge your application successfully.
Not sure what you need? Let us help you and start with a FREE online visa assessment:
We know that everybody around the world are having a challenging time right now due to Covid-19. To maintain the safety and health of all clients and team members we are offering virtual (phone,skype,videoconferencing) consultations for now. We know that most clients prefer this precaution as it also gives an opportunity to arrange for a meeting outside of business hours. Please allow 24 hours to arrange for your private and virtual consultation.
Not sure what you need? Let us help you and start with a FREE online visa assessment:
---
Depending on your personal circumstances, there may be several visa pathways and visa subclasses to achieve Permanent Residency status in Australia. We recommend establishing the best visa pathway which suits your individual circumstances.
Sometimes one may resist incurring the expense of professional advice - but we believe the future for you and your family in Australia and your success in achieving the best visa is a valuable asset and should be protected.
---
Consultation options available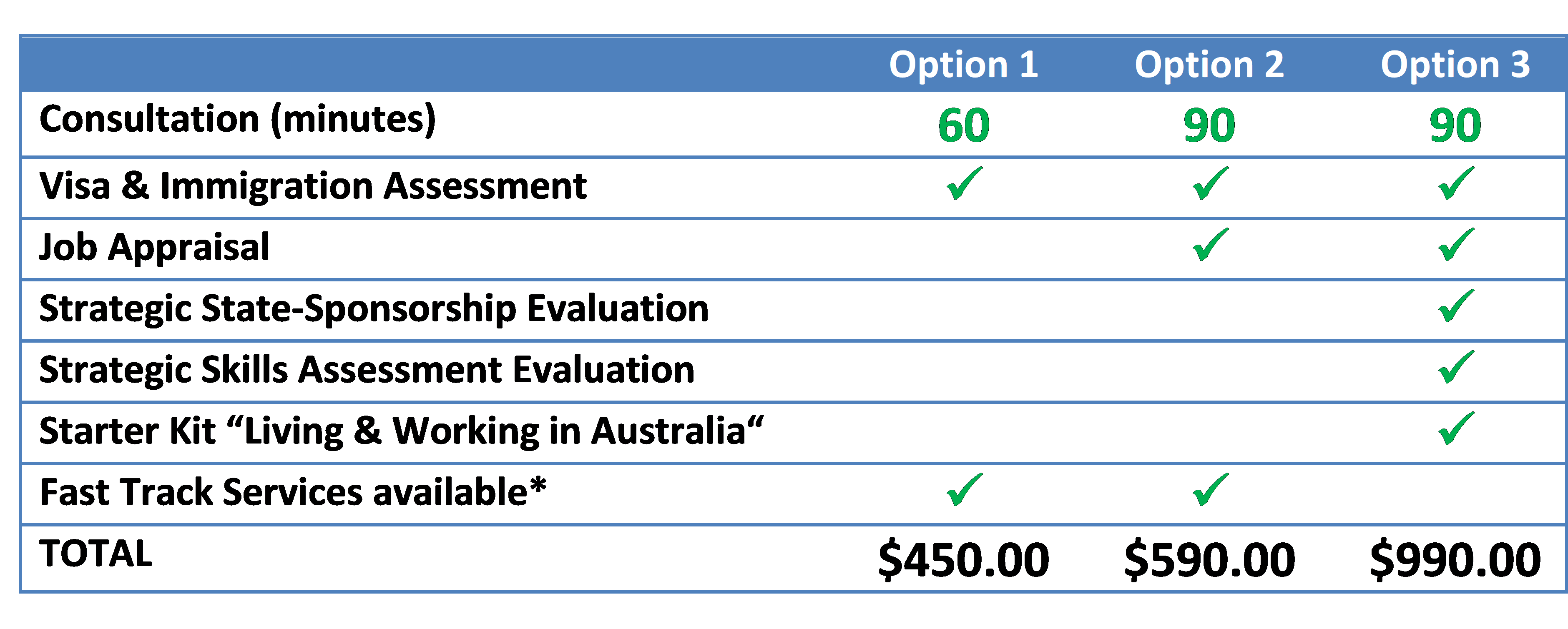 Download the pdf-file and learn about your Options in detail.


Then provide some information and book a time which works for you.
For a fast response, email us your info and request an appointment for a time which works for you:
The next steps
After we have received your information, we will evaluate and determine whether you have any options to move forward with a visa application.
If we feel there is no option, we will let you know and, of course, no consultatoin fee applies.
If we believe there is more than one visa pathway which may suit your circumstances, we will put together a detailed written visa assessment for you, unique to your individual circumstances.
The written Visa & Immigration Assessment will be emailed to you so you can familiarise yourself with your visa options before our consultation.
With the Visa & Immigration Assessment
You can read about your visa solutions and prepare for the consultation - so you can ask specific questions or focus on your preferred visa pathway when meeting with us
Your consultation is structured and efficient
You will be able to use that consultation time in a way that is beneficial and worth your while
Once you have had time to read your Visa & Immigration Assessment, you will have the opportunity to meet with us by videoconferencing, over the phone or Skype.
* Consultations may be booked online for business days (Monday - Friday). With Fast Track Services your consultation is fast tracked and you will receive your Visa and Immigration Assessment and your appointment within 4 business days. The time zone for all bookings is set to AEST (Australian Eastern Standard Time) and cannot be changed.